Well, I haven't blogged in a long time, but since I just finished my fixed gear bike I thought I would put some details up here about it. It's a 1966 Bottecchia frame that is in great condition except for the paint. There is only a little bit of surface rust on it and it rides like a dream.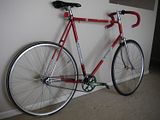 The story goes... We were at a family reunion at my Uncle's house when there was a little lull in the evening. I headed out to the garage to relive some of the memories that I had of that place when I was younger. As I was just rummaging around, I glanced up in the rafters and noticed the front fork of the bike. I found a ladder and my cousin and I climbed up and brought it down all nice and dusty. I personally don't know if it had been touched since 1966. It was the frame, fork, headset, and handlebars, just what I needed to make my fixie project as cheap as possible. After I got it home, I stripped it down and cleaned it really good. Then I rebuilt the headset with some nice new Phil Wood grease. I had already built up my rear wheel - a Sun rim mated to a 36 hole Suzue flip-flop hub. I put it all together with parts that I had laying in the garage and others that I swiped from my other bikes that I didn't ride very much and bada bing. There was the fixie in all its glory. I don't have a picture of it just yet, but I'll be sure to put one up here within the next few days.



Now that I know it fits me well, I need to repaint it. I still don't know what color I want to paint it, but I definately want to keep it classic. I'm even going to redo the stickers and have some new ones made to go in the original spots. I haven't put any brakes on it yet, so it's kind of sketchy riding it around these hills, haha. Anyway, there'll be pics up here real soon.